Western MA & Kirtan & Jeff Martell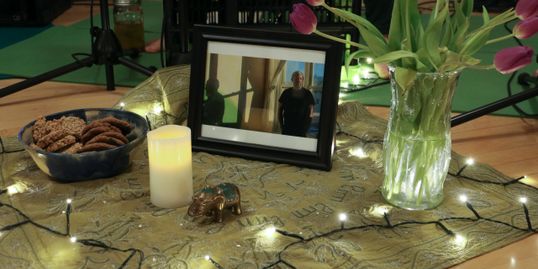 memorial that Libby Volckening places at each Kirtan event .
"Life is what you make it. So why not make it easy? Why
not turn it over and enjoy everyday? Play a little guitar.
Make love often and don't forget to pray." JM
Kirtan or Bhakti Yoga has been a profoundly life changing and amazing experience in my life.  Just before our move to Western MA,  two years ago, I posted a yoga meet-up that i was planning to hold in Northampton.  Apparently, I posted it in the wrong group.  A member of the group, gently and kindly suggested that I not post in the Kirtan group. We continued to facebook message back and forth getting to know each other.
This was my introduction,  distinct pleasure and blessing of meeting a man who would enrich my life and change my thoughts about life. He somehow persuaded my fiance (now husband) to play an ACOUSTIC guitar over an electric, introduced me to many native western massers and, with a whisper, he left this world with his guitar by his side. His name was Jeff Martell.
Jeff- a humble, kind soul who would do anything to help people. It wasn't until after he passed that I learned how expansive his service to man and God truly was. I asked Jeff if he would sing for one of my yoga classes – a class that came to called Friday night "Chill Fest" – restorative yoga with acoustic guitar and was so delighted when he said "hell yes"!
John and I attended our first real Kirtan in Greenfield soon after our move and met Jeff and his singing partner, Libby.   I was somewhat hesitant as I am not the best singer in the world but soon learned that it matters not at all.  This type of yoga is called Bhakti and means , love for the sake of love or union through love and devotion. This is done with the eyes closed,  call and response with a silence after the songs to allow the words to resonate and soothe the soul. 
The happy valley is sprinkled with many Kirtan artists.  From world famous artists such as Girish, Krishna Das, David Newman to local gems –  Carrie Grossman, Charlie Braun, Shubal, Adam Bauer. Dave Russell, Khaladisa Joseph Getter and so many more!
Jeff and Libby will forever be my favorites.  They touched something deep inside me that has helped me become a better person, more spiritual, and this has deepened my connection to people as well as spirit.
After one of the Chill Fests, Jeff dashed off to reunite with the love of his life, Jessica. I didn't realize that this was the Jessica that I had already met in my short time in the valley at Yoga Sanctuary at Dave Russell's Sunday night Kirtan.  From October until January, it seemed that we saw them everywhere – as our friendships developed and a special bond between the four of us blossomed.  
When John asked Jeff for lesson on playing Kirtan, Jeff chuckled and said, "there's only one way to do it, man, JUST DO IT".  He did come over with Jessica, and play his guitar as John played his. From Ripple to Saraswati to Pretty Woman-the evening was magical. This was a week before he left on his current journey. He shared so many stories and life lessons with us that night.  It was foreshadowing as he talked about his truck that he bought over and over – his Ford Rangers.  
He spoke of his desire not to write that damn sad love song again.  He was done with sadness, and bitterness – he was PURE LOVE and LIGHT.   In retrospect, he had reached that place of peace that we are all want to find within. It was no coincidence that Jeff responded to my post that hot day in August.  I will be forever grateful for the lessons learned and time spent in his presence.  In a short time, his wisdom was handed over to so many.  Thank you Jeff for all of your love and your continuing messages for us all!